About Blair Water Conditioning

Mission Statement: Blair Water Conditioning strives to provide hassle-free soft water to our valued customers while helping to conserve our precious water supply.

Company History and Information: Founded in 1947 in Clearwater, Florida, Blair Water Conditioning, Inc. has developed a reputation for providing excellent service and water quality for thousands of residents each year. Blair Water Conditioning, Inc. sets itself apart from its competitors by more than just its product. The passion of its owner is what makes Blair Water Conditioning, Inc. the company it is today.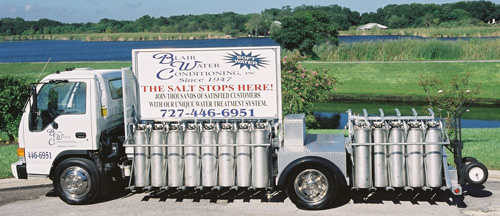 Mark Gerhart, President of Blair Water Conditioning started working for the company in 1984 as a route specialist. In 1989 Mark had an opportunity to purchase the company. In doing so, Mark focused on two main criteria. Continue to provide the same level of quality service experienced by customers for decades and to give the other households a different, more economical option to their water treatment needs. Although the company had been long established in the Tampa Bay area it never outgrew its original mom and pop shell. By purchasing the company and having a true passion and belief in his product Mark was able to take it from a one-man operation with no more than 120 accounts; to 600 accounts in just a few short years. Then he knew then he could no longer be chief, cook and bottle washer; he needed his first employee. Today, Blair Water Conditioning, Inc. provides services to thousands of satisfied customers in the Tri-County area and is six employees strong.

Read more about Blair Water Conditioning, Inc. in this article from Water Conditioning & Purification.